Laser and Waterjet Cutting
When you need parts for your business, you want to choose a waterjet or laser cutting service that will meet your standards and give you a reasonable turnaround time. Here at JFD Cutting, we understand how frustrating it can be to have your services take a long time. You want your products as soon as yesterday, but unfortunately, we can't ship back in time. So, we work hard to deliver your high-quality waterjet and laser cut projects to you as quickly as we can.
Three Easy Steps To Get Your Custom Parts
Call us to talk about your project needs and get a custom quote.
We make your products and get them out the door quickly.
Your completed part is delivered right to your location!
What Materials Do We Cut?
JFD Cutting has waterjet and laser cutting services for a variety of materials. We have plenty of experience working with local and national manufacturers on their parts and components needs. Whether you are in PA or anywhere across the country, JFD Cutting wants to work with you.
Our machinery can cut: • Glass • Foam • Mirrors • Wood • Rubbers • Plastic • Vinyl • Carpets • Ferrous • Non-Ferrous Metals
Don't see the material you need cut on this list? Give us a call and we will help you CUT IT OUT!
Do I Choose Waterjet or Laser Cutting?
Choosing waterjet or laser cutting may come down to the type of material you need cut. Each has their own benefits and disadvantages, and JFD Cutting can help you with either!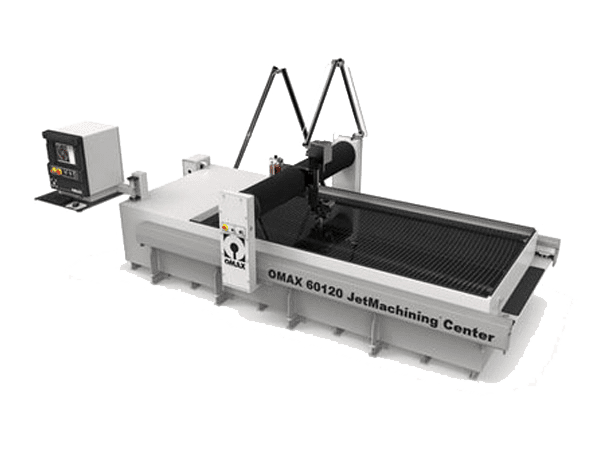 A versatile cutting service suitable for a variety of materials, waterjet cutting creates no heat, so this type of cutting works on most materials. Materials that are no match for our waterjet cutters include:
• Metal • Tile • Granite • Glass • Rubber & More
We have two dedicated waterjet cutting machines so we can meet all of your unique needs:
Waterjet Table 1 Cutting Area - 48" X 120" - with 5 axis cutting head capability
Waterjet Table 2 Cutting Area - 96" X 140"
Depending on your project, laser cutting can be a less expensive option. Laser cutting has high volume, high production cutting capabilities suitable for manufacturers of all kinds.
Material thickness and hole diameter are things to consider when wanting to use laser cutting. Laser cutting will temper material which could make secondary processes harder.
Metals suitable for laser cutting include:
• Stainless Steel • Steel • Aluminum
We use the Trumpf 5040 6kw co2 laser to do our laser cutting.
Unsure of what type of cutting might suit your material best? Please contact our experts at JFD Cutting because we are ready to talk to you about your project needs!
Photo Gallery
While we primarily work with cutting for the manufacturing industry, we are no strangers to working with smaller, more personal projects! Some of our customers call us with an idea, and we work together to produce some beautiful results. We've done wedding signs, quotes, and even woodcut snowmen, so matter the size of your project, we would love to help you CUT IT OUT!
About JFD Cutting
JFD Cutting started as a waterjet cutting service in Denver, PA in 2012 in a 2,000 square-foot shop. As the company grew, we expanded to a 10,000 square-foot shop and added laser cutting services to our roster to better serve your unique needs. Our quick turnaround times aim to get you your materials and parts fast!
We are located at 1564 Main Street, Suite 400, East Earl, PA 17519, with hours M-T from 7:30 to 5:00 and F from 7:30 -3:00. We would love to help you CUT IT OUT!
Contact Us
Happy Customers
R/W Connection has been a value-added distributor in the greater Lancaster area for over 30 years.  We supply hose/ fittings, gaskets and hydraulic assemblies and industrial supplies. During the last 2 decades we have used many different water-jet cutters to aid in supplying customers their products. We have been dealing with Jet Flow Design for the last 2 years and have never had a vendor be more accommodating to our needs. Their service and attention to detail has never let us down throughout our business relationship. Their quick turn-around and competitive pricing allows us to be competitive in our market place. Their ability to think outside the box to help provide customers with solutions is always welcomed and appreciated. I only wish I had more vendors like Jet Flow Design.

Carl Chillas , R/W Connection, Inside Sales/Product Manager
Jet Flow Designs is a fantastic company to work with. My husband and I have been customers for several years and could not be more pleased with the extraordinary quality and customer service we receive from this company. I was originally looking for a metal sign (similar to one I saw on HGTV's Fixer Upper) for my husband's birthday. When I contacted Jet Flow Design, Nick and Jen Bloom were more than helpful and personally discussed design and material options with me. The time and care they took to design what I envisioned was noteworthy. This was my first experience with this process, and I could not have been more pleased. After looking at their template, they cut the sign and had it ready faster than expected. The pricing was reasonable compared to other options I had researched, and the quality of the finished product was incredible. We received so many compliments on it, that we started ordering more as gifts for family and friends. The material selection is unbeatable, and the turn-around time surpassed our expectations. What a consistently positive experience…time after time. We will certainly be returning in the future and highly recommend Jet Flow Design.

Karleen Eichelman , Teacher, Manheim Central School District
My name is Skip Miller and I am the fabrication manager at All Fill Inc.   I handle the purchasing of fabricated parts for All Fill and work with many local and national venders.  We have been doing business with Jet Flow for 5 years and they are the go to vender for all of our cutting needs. We require quite a bit of waterjet cutting of different alloys and finishes and they never disappoint us. I get quick quotes and deliveries are always with short lead times.

Nick is a great technical consultant and Jen is always a pleasure to work with!  I have been very happy with their service and would recommend Jet Flow for any of your waterjet cutting needs."

Skip Miller , Fabrication Manager, All-Fill Inc.
I work in the CNHi Prototype Shop and have been working with Jen & Nick since their business startup. Probably like many other customers, we have very short lead times with small lot sizes. Jen & Nick are great to work with and have been giving CNHi quality parts at a fair price and excellent turn around. We are very pleased with their service.

Tom Strohl , Tom Strohl, CNHi Prototype Technician
I have been working with JFD for several years, the delivery and quality consistently exceed expectations. Our work with JFD has been anything from a pencil sketch on paper to complete fabricated assembly, they are more than just a water jet shop. We have been able to create new parts as well as replace aging OEM parts at far less cost and lead time then we had imagined, the partnership with JFD has kept many of our fabrication needs ahead of schedule and under budget.

Tom Savage , Project Engineer, AdvancedFoodProducts
The Titus Co. has been pleased to partner with Jet Flow Design for over four years. Jen and Nick have provided excellent service. Jet Flow Design has accurately utilized the drawings we have provided to deliver high quality, high value parts. Communication has been very timely, including reminders as needed to complete jobs in process. Delivery times are always met or exceeded, and on several occasions, they have met what others may deem unreasonable delivery requests. Overall we continue to be very satisfied with the support Jet Flow Design provide.

Scott Layman , The Titus Company